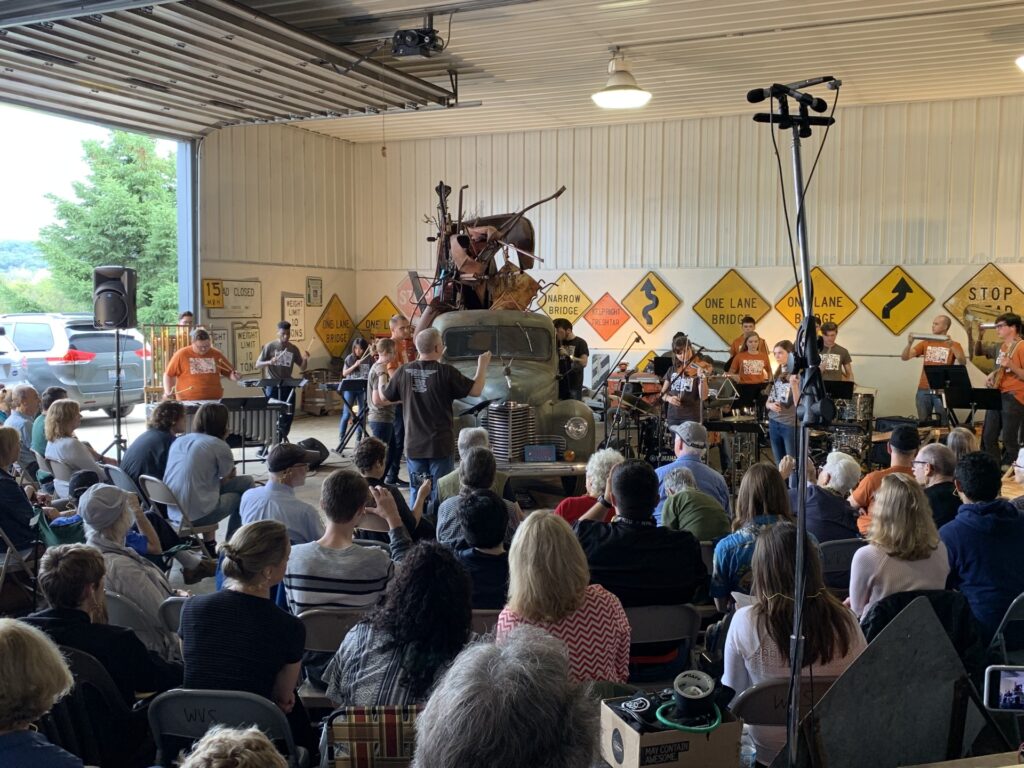 Earlier this fall, a group of School of Music faculty and students traveled to Spring Green, Wisc. to experience an exciting collaboration between percussion performers, composers, and the celebrated American visual artist John Himmelfarb.

The students and faculty members composed, rehearsed, and performed original works for members to perform on Himmelfarb's vehicular sculpture KB-3, culminating in performances as part of the Wyoming Valley 2019 Rural Musicians Forum Summer Concert Season.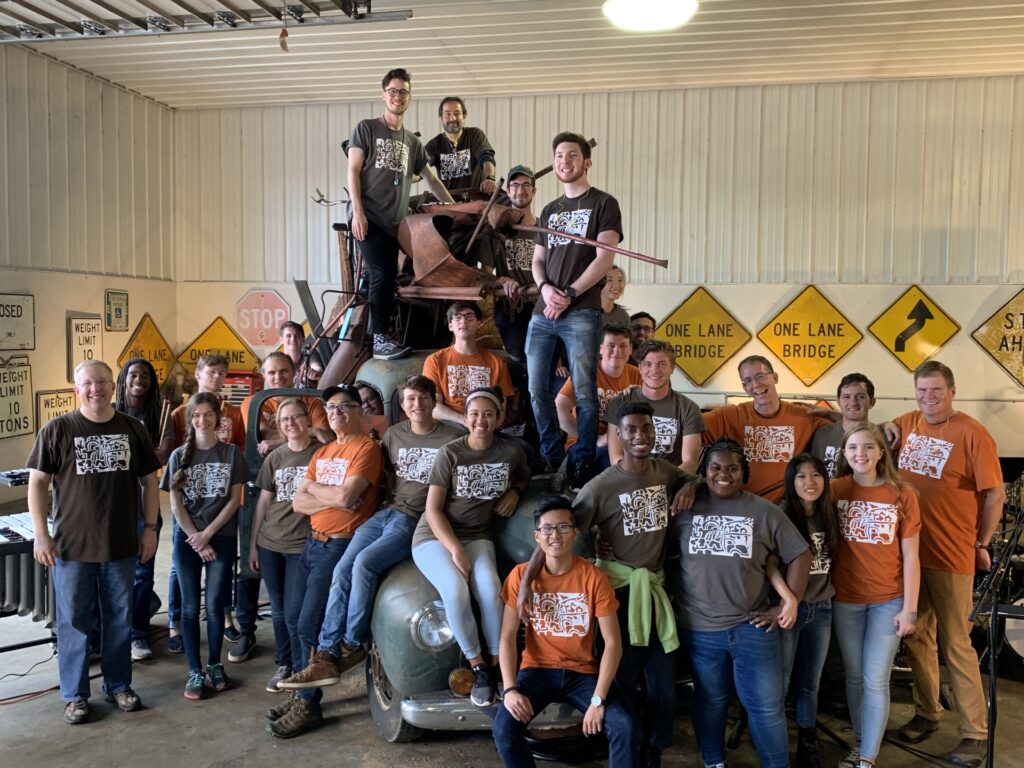 As part of the "Himmelbarb Project" compositions were created by:
Ben Wahlund, NIU percussion faculty, curator of the Himmelfarb Project
David Maki, NIU music composition professor and assistant director of the NIU School of Music
Gregory Beyer, professor and director of percussion studies at NIU School of Music
Rodrigo Villanueva, professor of jazz studies at NIU
Thomas Benko, Blue Man Group, Chicago Bears Drumline, Clocktower Duo, NIU School of Music alumni
Elena Stavropolous, NIU music composition student
Frederick McClure, NIU music education student
Cana Hunter, NIU music composition student
Ben Heppner, NIU performance percussion student
John Himmelfarb is a Chicago-born artist best known for using modernist, and idiosyncratic work across many media. He splits his time between Chicago and Spring Green, passing near NIU's DeKalb campus.  His parents, Eleanor and Sam Himmelfarb were both artists and both presented at the NIU School of Art and Design during their careers, and he'd been a guest artist here at times during the 1980s and '90s.
The "Himmelfarb Project" began a few years ago, when an e-mail chain "found" Ben Wahlund.
"A few of my colleagues knew John Himmelfarb had done some sculptures with trucks," he said. "They let me know there was this artist who was looking to collaborate with some percussionists. Greg Beyer and I invited John to come to campus. He came and toured our percussion room, we assembled a bunch of percussion sounds and introduced him to some of our students and we were off to the races."
Playing "found" percussion objects dates back to early man banging on logs, and has been incorporated into music over the ages. In recent times, composers like John Cage and Lou Harrison brought found percussion into the concert arena.
"I thought it would be really fun for my colleagues to get a chance to compose, and for students to not only compose but to lead rehearsals and get to perform on a truck," Wahlund said. We ended up performing nine pieces on the sculpture, four composed by professors, four by students and one by Tom Benko, a percussion alumni of ours who is with the Blue Man Group."
Himmelfarb's visit to the NIU percussion area was in November of 2018, and over winter break Wahlund and Beyer planned out what the project would look like. The composers got to work at the start of the spring semester and in May, a group of faculty and students took a trip to Himmelfarb's Spring Green studio to converge on the piece they would be performing on.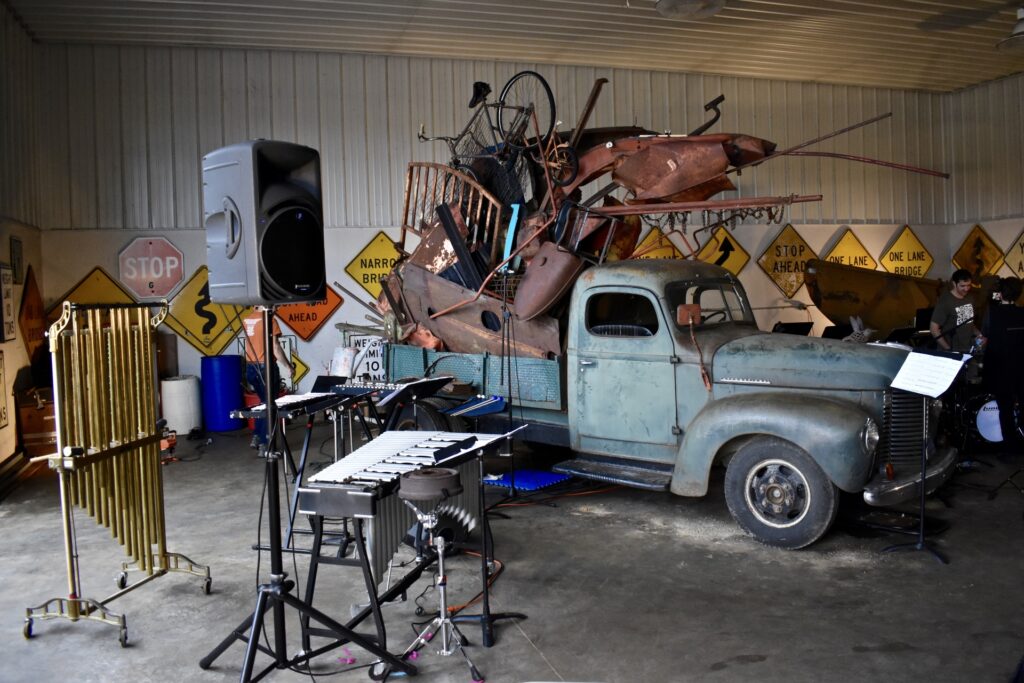 "We had professors from percussion and composition and students from both areas, Wahlund said. "There wasn't a concerted effort to represent the different studios, but it did, and it gave it all a cool voice and ended up making for a delightful collaboration."
After the visit, everyone needed something to rehearse on, and that was accomplished by building mock versions of elements of Himmelfarb's KB-3 truck sculpture for each group.
"That way if there was a piece that calls for dragging a drumstick across a grill, for example, we found some sort of metal that we could drag across. If you were to see us rehearsing, you'd see us hitting chunks of metal. But some of the pieces called for other instruments, so rehearsals could be kind of kooky with someone playing a glockenspiel, or a vibraphone, and someone over here hitting some metal. It was great."
Rehearsal footage
The pieces were performed at a concert on September 22 in Spring Green as part of the Rural Musicians Forum Concert Series in conjunction with the Spring Green Area Arts Coalition and the Wyoming Valley School Cultural Arts Center, housed in a Frank Lloyd Wright designed building just three miles from Wright's home, Taliesin, in rural Spring Green.
The concert was originally scheduled to be held in the front lawn of the school, but rainy weather forced it inside, to a very fitting space. The municipal garage next door, where the truck looked right at home among the road equipment and signage. Dozens of patrons brought their lawn chairs inside and enjoyed the performances.
All nine performances and more photos from the concert are available at himmelfarbproject.com.