Northern Illinois University will be the home for a one-night performance of an original work created using actual letters between soldiers and loved ones during World War II.  Our Lives in Letters: A World War II Perspective  will be performed in the Carl Sandburg Auditorium, located in NIU's Holmes Student Center, Saturday, September 7 at 7 p.m.  There is no charge for admission.
Our Lives in Letters is a collaboration between the NIU School of Theatre and Dance, the World War II Archives at Florida State University and Chipola College in Marianna, Florida.
The creator of the play was Chipola's technical theatre director Connie Smith who first came across letters from and to WWII soldiers while working on a graduate school assignment in the WWII Archives at FSU.  Smith wrote the play with Chipola College English professor Rachel West.  Smith reached out to a former student and current colleague of hers, Jeremy Floyd, assistant professor of costume design and technology at NIU for help with costumes, staging and casting a production.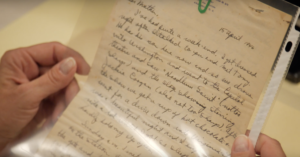 In December of 2018 there was a read-through of the script at NIU, and Patricia Skarbinski, head of the MFA Acting program and assistant professor in the School of Theatre and Dance cast the production, while Smith and West did some re-writing.  Floyd recreated realistic versions of the actual letters for the actors to hold and read from on-stage. To be as faithful as possible to the originals, he used 100% cotton paper then aged and distressed it and sized the letters to match the originals, so the actors are holding realistic recreations of the letters being projected on screen behind them.
Individual rehearsals were held before spring break at NIU.  Then there was one day of rehearsal on stage in Florida before the performance the next day.
The first exhibition this season in the NIU Art Museum has a similar theme.  Exploring Aspects of War In and Through the Visual Arts runs from August 27 through October 18 in Altgeld Hall on the NIU main campus.
—
Our Lives in Letters: A World War II Perspective
Saturday, September 7, 7 p.m.
Sandburg Auditorium, Holmes Student Center
Northern Illinois University
Free Admission
Exploring Aspects of War In and Through the Visual Arts
August 27 – October 18
NIU Art Museum, Altgeld Hall, First Floor