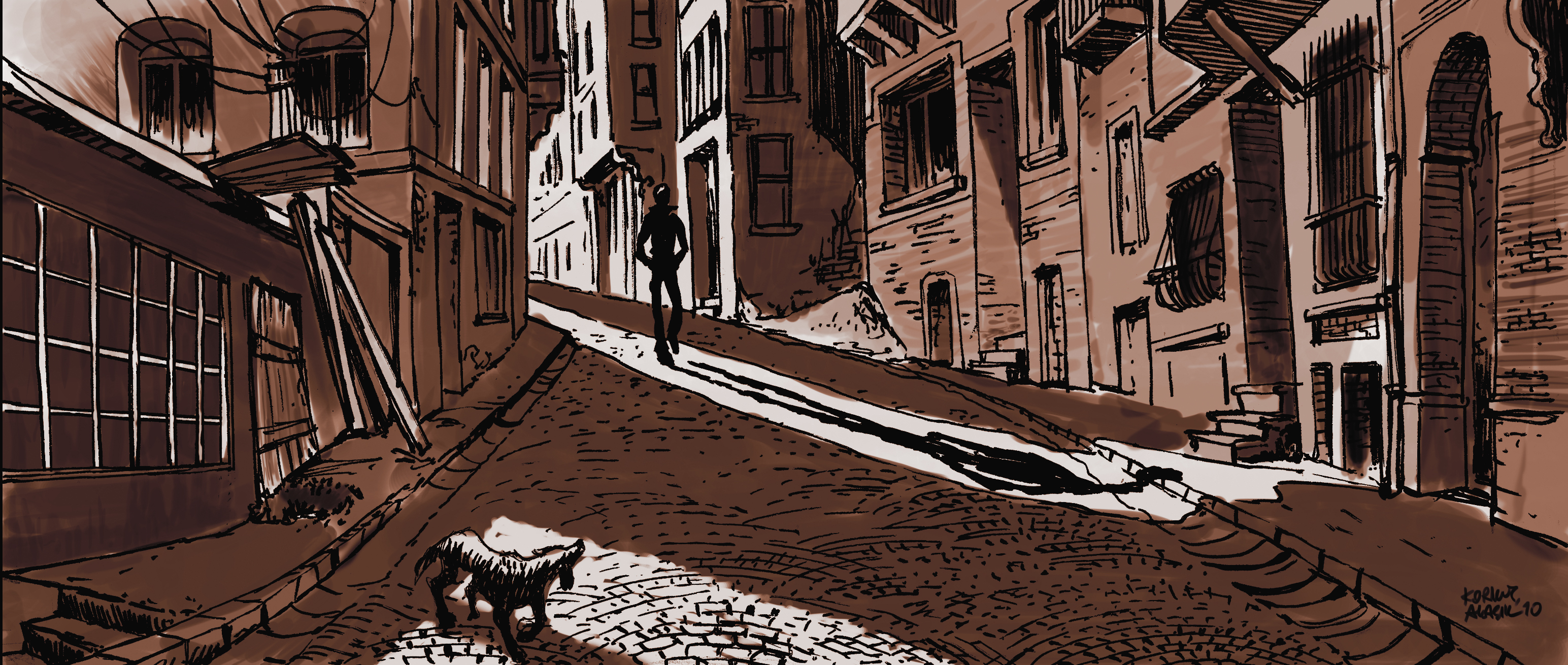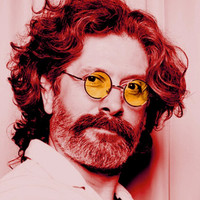 Korkut Akacik earned his Master of Fine Arts in animation from the NIU School of Art and Design in 2018.  He is currently the creative director at Econ Illinois, a non-profit organization through NIU that has been developing interesting and interactive ways to help Illinois teachers educate students so they are better prepared for their financial futures.
He is also an adjunct faculty member at College of DuPage where he teaches courses in digital animation, digital illustration, Sequential Art and cartooning.  He worked for many years as an animator and instructor illustrator in his native Turkey, and in 2007 co-founded Akacik Advertising & Design Ltd. in Istanbul and operated it for more than a decade.
It all started with an animated stork.
We'd just passed across the Bosporus on a boat from the Europe side to Asia with my grandpa. I was about five years old then. That's when I saw the animated mascot of a national bank; a stork was flying with its animated neon lights.  That did light a spark in me. But that was not the moment that I decided to create animations. It was a couple years later, as I was walking to the grocery store on a hot and humid Istanbul summer day. I found an 8mm filmstrip on the dusty walkway. Believe or not it was about 15 frames, less then a single second of animation, but finding those 15 frames is what started me on my journey to create thousands of seconds of animations.
Fast forward, I won first place at the Mimar Sinan Fine Arts University talent test. That's when I decided to major in graphic design. At the end of my freshman year I found myself working at the biggest animation studio of Turkey as an in-betweener. With my love of animation and hard work, I became a lead animator in two months. Over the next few years, I worked on several projects; animated TV commercials, TV show title sequences, special effects for movies, and editorials.
İş Bankası Satranç Filmi from Korkut Akacik on Vimeo.
Since then, I've been creating storyboards, shooting boards, concept boards, character designs, illustrations as well as 2D and 3D animated films for well-known brands, such as Algida/Unilever, Cheetos/Frito-Lay, Kellogg's, McDonalds, Palmolive/Colgate, and more. Over the past 25 years I've been working and collaborating with worldwide agencies, including DDB, TBWA, Young and Rubicam, Saatchi & Saatchi, and McCann Erickson.
At the age of 45 I pursued seeking MFA degree in the US. Through my years in NIU's time arts program I had the chance to work with amazing artists and professors. Socio-political issues have been the main focus at my research, including human rights, underrepresented or marginalized identities, social justice, and misogyny.
Cloud from Korkut Akacik on Vimeo.
Besides my solo and group shows, I have also collaborated with artists and musicians on live performances.
In 2014, I was awarded with Juror's Choice for my video piece Oriental. Juror Alvaro Amat the Exhibition Design Director of The Field Museum, Chicago decided to project my video on one of the walls of the NIU School of Art and Design's Jack Olson Gallery, from the floor to the ceiling.
This particular piece gave me the chance to help the most diverse orchestra in the United States, Chicago Sinfonietta. After receiving an encouraging email about Sinfonietta's search for help from the director of the NIU School of Art and Design, John Siblik, I created a special video for their Dia de los Muertos concert night using the same technique I've used for Oriental. It was a live recording of drawing of Beethoven's portrait with his piece "Coriolan Overture." I also made illustrations out of their musicians' younger versions for Sinfonietta's Project Inclusion.
Click images to enlarge:
After graduation from NIU, I kept working with the Luanne Mayorga and Econ Illinois team whom I was helping as a graduate assistant. I've created characters for Illinois Financial Literacy Program. The main goal of this program is to teach K-12 students finance and economics. So, I focused on creating a diverse group of characters. Especially, for the anthropomorphic ones, I was inspired by Illinois native wildlife. In addition to the characters and the book covers, I designed a game poster for Illinois State Fair and animated videos for the American Dream Dinner fundraising event.
In the 2018-2019 academic year, I've taught cartooning, digital illustration and storyboarding/sequential art in my role as an adjunct faculty member at College Of DuPage. I also have an artist instructor position at Pinot' Palette Naperville studio. Currently, I am working on new projects with non-profit organizations Kybele and Ashlar, and a new graphic novel.