For Elaine King, her path to becoming an art historian and educator took form during Saturday road trips from NIU to Chicago when she was a pre-law undergraduate student.
King was back on campus recently as part of the Elizabeth Allen Alumni Scholars in Art History lecture series.  Her talk was on how the art market, and not art curators or art critics legitimize cultural products today.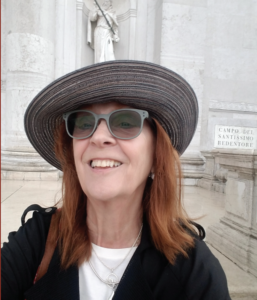 During her visit she reflected on how she found her way at NIU and what pointed her in the direction her career took.
King applied to, and was accepted at, elite schools like Radcliffe and Marquette, but after years of Catholic private education growing up she decided that her ideal college experience would be at a larger institution as part of a mixed community of students.  After visiting the University of Illinois that she felt was too big she next came to DeKalb and liked what she saw at NIU.
"I started out in pre-law," King said.  "In high school, I was part of the debate group and did very well, and worked on the school paper and year book.  My senior year, I was the captain of our team and everyone told me I'd make a great lawyer. Studying history and public speaking came naturally to me.  When I came to NIU a counselor told me I should take a lot of history and political science courses to start.
"But I wasn't enjoying those classes.  Then, as one of my general education requirements I took a survey course in the history of art.  I loved the class and I liked the teacher Jan Swenson.  Afterward several of us would take the train into Chicago at seven on Saturday mornings.  We would go to the Art Institute and the Museum of Contemporary Art and other museums and it was really exciting.  I'd start critiquing the shows and my friends would tell me I should go into art and curate or do criticism.
"So, in my junior year I switched to art history, but kept my interest in political science and policy.  I was practical, and also earned an education certificate. I studied photography with a professor named Doug Stewart and that's an area I became particularly good in.
"As I was nearing graduation, a group of us were going to another show in the city, and our professor Doug Stewart told me he knew of a job to teach photography and its history at Morton West High School.  I thought, 'Oh wow, I'm might have a job before I graduate,' and I got."
King says it felt a little strange to be a 21-year old teaching 17 and 18 year olds, but she learned a lot from the experience.  After moving on to teach at New Trier High School she took an administrative job at Northwestern University while working on her master's at NIU, however, Professor Bob Bornhuetter advised her to stop studying for a while and "go do into the world and live, then come back and finish."
She says that was great advice. Within two years she finished her master's degree at NIU in art history and public policy and went on to get her PH.D at Northwestern University obtaining an interdisciplinary degree that combined studies in interpretation, art history and critical theory.
Except for completing her thesis she successfully applied for a faculty position at Carnegie Mellon University in Pittsburgh.
"I had to compete for that position—I was among several strong candidates," King said of the process that it included two interviews, creating a video tape of a lecture, submitting two syllabi for new courses for the School of Art at Carnegie Mellon.  "I was thrilled when they hired me, and I hadn't even finished my thesis yet, which was on the National Endowment for the Arts and how it influenced the art of the 1970s and how it was key for the arts opening up in multi-disciplines.  Carnegie Mellon really liked that because that's a very interdisciplinary school, and the fact that my degree was interdisciplinary really appealed to them."
A few years later, King awarded a six-month senior fellowship at the Smithsonian American Art Museum in Washington, DC.  She would later accept another fellowship at the Smithsonian National Portrait Gallery.
In the fall of 2020 King is curating an exhibition featuring Puerto Rican artists to be titled After Maria.  "I don't exactly know which artists I'll select however, I do know that I want to hear the voices of artists who lived through the horror of hurricane Maria, and I want to give them the opportunity to show that work and give their voice a stage.
"To me, it's like scientific problem solving.  If you're really researching  you can't have the answer.  Otherwise, why do it?" I always welcome the surprise when a project comes together."
King is now Professor Emerita.  She taught the history of art/theory/museum studies at Carnegie Mellon.  She holds a bachelor's of art history and a master's in art history and public policy from NIU and a Ph.D. from Northwestern University.  She has served as both the executive director and chief curator of the Contemporary Art Center in Cincinnati, Ohio as well as the Director and Curator of the Carnegie Mellon Art Gallery  King has curated over 35 exhibitions including the retrospectives of Mel Bochner and Barry Le Va, and a major exhibition of Martin Puryear who will be representing the USA at the next Venice Biennale. Currently she is a freelance art critic and curator.