Paul Kassel, Dean, NIU College of Visual and Performing Arts
What do glass blowing, drum lines, poetry slams and jazz band have in common?  They are all programs in After School Matters, a Chicago Public School initiative that has been around since 2000.  Originally the brainchild of Maggie Daley and begun as an internship program at Gallery 37, ASM now offers 23,000 programs for 15,000 unique teens every year.
On October 11, I visited several of these programs, accompanied by Dr. Kryssi Staikidis (Art Education) and two of her students, Savanna Miska and Meagan Kirkwood.  We were hosted by NIU School of Music graduate, Randiss Hopkins, who is the Program Specialist for schools on the west side of town.
We began at the Phoenix Military Academy on Campbell Avenue, where we visited the Advanced Art program and the Major Adams Drum and Bugle Corps.
Teens in the Advanced Art Program at Phoenix bolster skills towards creating a professional portfolio in fine art and or design. Teens enrolled in AP Drawing or AP 2D design receive instruction and support towards completing the requirements laid out by the College Board to receive AP credits.

Teens in the Major Adams Hornets Drum and Bugle Corps develop skills through training in music, dance, marching and maneuvering.
The art students were working on 3D design on desktop computers coached by Daniel McElgunn and Jamal Williams.  They were working on a program designed to "melt" the picture they were working on.  What really struck me was that many of the pictures they were working on showed the artist engaged in some other art form.  One young man was "melting" a picture of himself playing keyboards.  A young woman was "melting" a picture of herself dancing.  I was really dazzled by what they were accomplishing and delighted at their love of different art forms.  Like our students in CVPA, they are boundless!
The teens in the drum line we visited were all raw (but very eager) beginners.  Their teacher, Bruce Wilkerson, was tough but inspiring. He is not only a teacher, but a working artist, playing drums and bass guitar for many rock bands and in recording sessions.  Mr. Wilkerson felt it was critical to pass his knowledge down to these young people and instill in them the discipline that is required in drum and bugle corps.  The teens then treated us to a short example of some rhythms they were working on.  Using just two drumsticks, the beat out a sophisticate rhythm on the back of chairs.  Art is where you find it and make it!
We headed out to Lake Street to visit Glassworks, an amazing facility where students get to work with molten glass with ovens heated to over 2100 degrees!  Students were being taught to "gather" glass from the ovens, with the goal of creating a bird paperweight.  It was astonishing how deft the artist was in handling molten glass, but more impressive was how game the teens were.  Glass-making is a beautiful art form, and After School Matters makes it accessible for any student who wants to give it a try.
My visit to
After School Matters
Savanna Miska, Undergraduate Art Education Major
On the evening of October 11, Meagan Kirkwood, another Art Education Major and I had the opportunity to attend the After School Matters program in Chicago with its outstandingly passionate and knowledgeable leaders Randiss Hopkins and Chris Nergaard as well as Northern Illinois University's Dean Paul Kassel and Dr. Kryssi Staikidis.
After School Matters is a program that encourages students to pursue the joy of creating various types of art, such as language arts, music, and visual arts, after the school day is over. The program has multiple locations in Chicago and we were able to experience five of the wonderful classes at four of the locations.
We began our journey at Phoenix Military Academy where we discussed the academic goals of the students, such as building a professional portfolio, in Phoenix Advanced Art while students worked on projects in Photoshop where they learned about the significance of blurring areas of photographs and applied it to their own images as pieces to add to their portfolio as they worked toward developing the skills needed to attain AP requirements.
Then we traveled downstairs and listened to the MACC Hornets Performing Arts, a drum and bugle corps, perform their diligently practiced routine that displayed the students' high level skills.
After feeling inspired by the students at the school campus, we traveled to the private studio Glassworks in the heart of the city where students were given the opportunity to learn how the glass-making process works by the studio's passionate and engaging artists.
I have never seen glassmaking done in person and the experience took my breath away. Being surrounded in a studio space that truly warms your soul is invigorating.
Once we watched a demonstration about how to create a bird out of glass, we trekked to Leif Ericson School where we were all greeted by the student leader of Colored Girls are Cover Girls.
The student's shared impassioned poems filled with energy and were constantly motivated by their peer's ongoing support. Their poems were unashamedly passionate and told stories about issues related to inner-city teenage girls as a means to educate their peers and community members.
At our last stop of the evening, the Garfield Park Golden Dome, students with Berklee City Music played a song for us that they were learning. They use cutting edge curriculum formulated through Berklee PULSE which helps teens reach their goals to attended music programs in higher education. It was at this moment in the night where I became flooded by my emotions due to the hardworking students and struggled to introduce myself because I was so taken over by their inspiring efforts to achieve anything and everything imaginable.
Without an ounce of doubt in my mind, After School Matters is a program dedicated to assisting students achieve mastery levels and it was evident in my experience attending five of the classes offered by the program that it is effective.
This program has been rapidly growing in Chicago, and Northern Illinois University plans to create opportunities where future artists, musicians, art educators, and music educators can work with After School Matters to establish life long lasting relationships and professional career development.
Teaming with a program as passionate as After School Matters communicates to students at Northern Illinois University that valuing education and community is essential to growth.
From Glassworks, we headed over to the Garfield Park area, first to Leif Ericson School and the Colored Girls are Cover Girls group.  CGCG (and their male counterparts, Urban Sons Speak Life) are led by Patti Barnes, Anastasia Baker and Morris Garrett (MoeMentum) to work on spoken word performance.
Colored Girls are Cover Girls utilizes poetry, spoken word, theater, music and other forms of cultural expression as means to create change, impact lives, build relationships and stimulate growth among teenage girls of color. Teens learn to write creatively, passionately, powerfully and unashamedly and use their stories as valuable tools to educate their peers and communities on issues directly relating to inner-city teenage girls such as: violence, absent fathers, body image, adolescent sexual health and interpersonal communication.
Being a theater person, I introduced myself with the first four lines of Shakespeare's "Sonnet 162" ("Let me not to the marriage of true minds…")  I was very proud to get some "snaps" for that.  But the real stars were the young people who shared their original work.  They opened up and revealed some intensely personal experiences—harrowing and heroic.  Two young men did a kind of duet, with the repeated refrain, "in my city."  When they finished, there was a moment of silence and then the room erupted into applause and snaps.  But then their teacher did a spontaneous improvised response, using the same refrain.  When he finished, the teacher and the young poet he spoke to hugged and the crowd went wild.  We four visitors from NIU were deeply moved.
We ended our visit with a trip just down the block to the Garfield Park Golden Dome.  If you haven't been to this building, go!  Originally administrative buildings for the West Park Commission, it now hosts a multitude of programs, including the Berklee Initiative/Business of Music.
Berklee City Music engages teens in a music education program designed to prepare them to pursue higher education and reduce specific music-related achievement gaps. This is achieved with the Berklee PULSE method, a cutting-edge curriculum centered around present-day music styles which teaches theoretical, listening, improvisational, and performance skills.
Howard Sandifer, Darlene Sandifer, and Wilbert Crosby led the students through a complex arrangement that included strings, winds, guitar, drums, and a vocal quartet.  We listened to them rehearse a particular passage until they got it just right.  I was invited to speak to the group and took a lot of great and probing questions.  What I learned is how hungry these students are for knowledge, how ambitious they are about their futures, and how ready they are to take the next steps.
After School Matters is an important and impressive program.  I came away quite moved by the experience, and excited to see how we can develop stronger partnership with their programs.  I am now in discussion about developing internships for our Music and Art education students, both during the summer and regular school year.  In addition, I'm hoping NIU and CVPA can help these ambitious and talented students realize their dreams and join our engaged, inclusive, boundless and strong programs!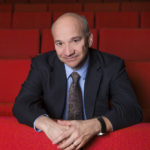 Paul Kassel is the Dean of the College of Visual and Performing Arts at Northern Illinois University, which is comprised of the School of Art and Design, the School of Music and the School of Theatre and Dance.