Willie Pickens, Applied Artist in the NIU School of Music, passed away in New York City on December 12. He was 86.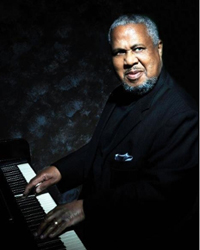 Pickens taught jazz piano and jazz studies at NIU.  Over the years, he was an important influence on many students who went on to become successful musicians in their own right.
To the very end of his long, successful and varied career he remained one of Chicago's most in-demand jazz pianists.  He was a faculty member of the American Conservatory of Music, and performed with a large number of internationally recognized jazz artists.
Among those with whom Pickens toured and recorded with are Elvin Jones, Joe Henderson, Clark Terry, Eddie Harris, Wynton Marsalis, Quincy Jones, Louis Bellson, Bunky Green and Red Holloway.
The Chicago Tribune published this piece about Pickens the day after his passing:
Chicago piano titan Willie Pickens dies at 86
Chicago mayor Rahm Emanuel issued this statement: "Willie Pickens was a towering figure in our city's cultural landscape, lighting the keyboard on fire with splashy chords and lightning runs over a career that spanned more than half a century. But Willie was more than an artist. He was a CPS teacher, a grandfather, an active member of his church, and a mentor to generations of countless young Chicago musicians who learned, grew, and were inspired by his training and guidance."
In 2015, Pickens and NIU Professor of Jazz Studies Reggie Thomas held a duo piano recital at NIU.  Here's one of the selections from that performance: