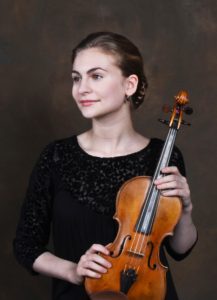 Violinist and violist Margaret O'Malley of Glen Ellyn, Ill., is this year's winner of the Northern Illinois University Community School of the Arts Sinfonia Concerto Competition.  Margaret won the competition at NIU for her audition of the first movement of the Violin Concerto No. 3 in b minor by Camille Saint-Saëns.  She receives a cash award and will return to DeKalb to perform the concerto with CSA Sinfonia, directed by Linc Smelser, at the May 2018 concert in NIU's Boutell Memorial Concert Hall.
Margaret is currently a principal violist of Chicago Youth Symphony Orchestra and an active member of the Resurrection Orchestra of St. John Cantius Church in Chicago on both violin and viola. She is also the violist of Asrai Quartet coached by Desirèe Ruhstrat, professor of violin at the Beinen School of Music, Northwestern University.  Margaret has won numerous awards for her ensemble work from the Barnett, Discover, Rembrandt and Fischoff International Chamber Competitions.
Her solo violin performance awards include the Youth Symphony of DuPage Competition, the DuPage Symphony Orchestra Concerto Competition, the Elmhurst Concerto Competition, the DePaul University Festival, Glen Ellyn Wheaton Music Competition, Society of American Musicians, and the Rockford Youth Symphony Orchestra Concerto Competition.
Margaret began her musical studies at the age of four on piano at the Community School of Arts in Wheaton College, where she also developed a love of violin, studying with Mrs. Anita Arch.  Margaret further developed as a musician working with Mrs. Ann Montzka Smelser (NIU Community School of Arts) who was instrumental in supporting Margaret's desire to pursue viola, as well as, violin.
CSA Sinfonia attracts talented musicians from all over the northern Illinois region.  Admission to this highly regarded ensemble is by audition only.  Linc Smelser, cello teacher and conductor of the Kishwaukee Symphony Orchestra, is the director of CSA Sinfonia.  Auditions for the orchestra for the 2018-2019 season are on June 2, 2018 in the NIU Music Building.
To learn more about CSA Sinfonia or the other music and art classes and music ensembles for children, teens, and adults offered by the NIU Community School of the Arts, contact the community school office at (815) 753-1450 or visit www.csa.niu.edu.