From Paul Kassel, Dean, College of Visual and Performing Arts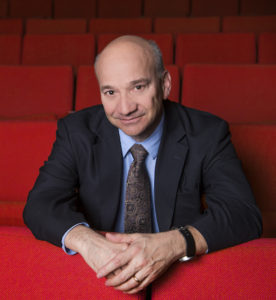 Welcome or welcome back!  We're glad you're here and ready to take advantage of all the College, our Schools, and our great university has to offer!
We have the rare privilege of being able to study, learn, and make—be it art, music, dance or theatre. That's your job.
A big part of the job of the faculty, besides doing their own research, scholarship and creative activity, is to teach—to lead you—your mind, abilities, and talent—out, and in, over and under, around and through the theory, history and practice of your art form.
Along with that privilege is an obligation—to give our all, to do our best, and to make the world a more hospitable and habitable place.
I exhort you to meet each challenge with a beginner's mind, an empty page, a blank canvas, an open stage, an unmarked score—to see and hear and move and feel, to imagine what may be. And then go back again, and reflect upon what you have done, and what others have done yesterday, last year, five thousand years ago, and say, what was this? And what does it tell me now?  And how shall I do it better tomorrow?  Again and again—out, in, under, over, and through.  And my job is to facilitate all that—to ensure the conditions under which creativity—teaching, learning, making and doing—may thrive.
I look forward to seeing you all in class, in the studio or rehearsal hall, in performances, concerts, exhibits, conferences.
Good luck and best wishes for a great year!