Ari Norris
Studio Art – Sculpture major
Hometown: Muskegon, MI
Major: Studio Art – Sculpture major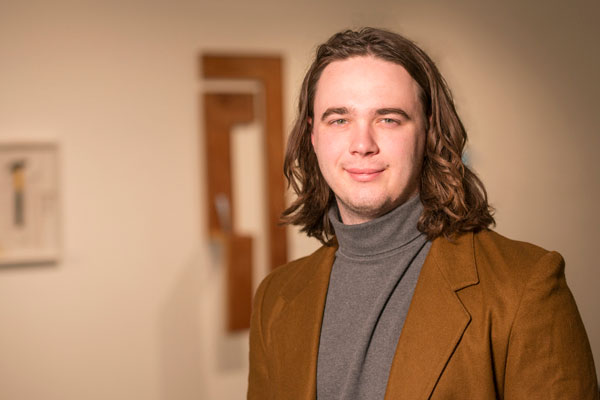 Why did you choose NIU?
I went to a portfolio review at the Art Institute of Chicago with colleges from all over the country. I was walking around and someone commented on the portfolio case that I was carrying and said, "They don't make them like that anymore." That person turned out to be Frank Trankina (assistant professor in NIU's School of Art and Design).
It was a coincidence, but I was already considering NIU. My parents both went to graduate school here, and now teach art at Muskegon Community College, where I transferred in from.  The portfolio I was carrying was the one my dad used when he was a student at NIU. I wasn't dead set on anything, so to have that interaction reaffirmed my interest here. It was perfect that way.
What excites you about your major?
The opportunities it can open up excite me. Sculpture is the most diverse major in fine arts. It develops your ability to work three dimensionally.
Originally, I was going to study painting, but one summer I had an apprenticeship with a bronze artist in Gettysburg, Pa. That experience really sold me on sculpture and seeing what can be created with bronze. I want to be a preparator in a museum, and this experience really develops the skills I'll need.
What's your favorite spot on campus?
It's not on campus–it is a campus. I spent a lot of time at the Lorado Taft Field Campus my first semester here. I like that it was his place to go in the summer as a retreat from Chicago. I was really researching his work and discovering some hidden stuff out there of his and his students.
Being at his old stomping grounds is attractive to someone who is interested in art history and sculpture. It allows you to experience of doing kind of what he was doing—traditional neoclassical sculpture.
Why should other students choose NIU?
If they are interested in the arts it's a great place, and the proximity to Chicago is unbeatable. When you factor in what you pay for it, it's unreal.